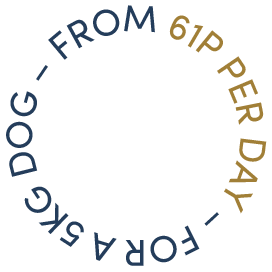 Plant-based superfood for adult dogs
A complete & balanced plant-based dry food for adult dogs of all breeds. Made with a delicious and nutritious blend of 39 natural ingredients, including sweet potato, fruits, leafy greens, ancient grains and healthy herbs & botanicals, all the essential proteins, nutrients, vitamins and minerals your dog needs.
High protein
Delicious, dog-approved flavour
Prebiotic, Omega 3 & 6
Hypoallergenic & suitable for low-fat diets
Ingredients
Carrots
Brimming with beta-carotene that supports heart function & promotes healthy eyes and skin.
Chickpeas
Protein-rich & high in fibre to help reduce inflammation, support heart health and aid digestion.
Green beans
High in vitamin K & calcium, green beans help maintain strong & healthy bones.
Kale
Antioxidants and high levels of Vitamin C help reduce inflammation & support the immune system.
Pea protein
A great source of protein, peas are also rich in fibre for digestion & control blood sugar levels.
Potato Protein
The humble spud is a source of protein that provides energy & promotes healthy poos
Pumpkin
Packed with antioxidants and vitamins A & E to support immunity and cardiovascular health.
Seaweed
Rich in iodine and trace minerals, to help support oral health and a glossy coat.
Spinach
A powerful combination of insoluble & soluble fibres, antioxidants, vitamins & minerals.
Sweet Potato
Top of the nutrient scale – high in gut-happy fibre & essential vitamins for overall good health
Alfalfa
This quality source of protein is overflowing with vitamins, minerals, phytonutrients & fibre.
Apple
Fermentable fibre supports the digestive system and promotes healthy gut bacteria.
Basil
Natural anti-bacterial and anti-inflammatory to help maintain skin health and boost digestion.
Blueberries
Bursting with mighty antioxidants to help maintain the immune system and good overall health.
Brewer's yeast
Rich in antioxidants and B vitamins to support digestive health, healthy skin & a glossy coat.
Buckwheat
High in fibre and packed with protein, this gluten-free seed is, despite the name, wheat-free.
Burdock root
Proven to help support healthy skin and alleviate arthritis and inflammatory problems.
Ginger
Healing anti-inflammatory properties help settle upset tummies in dogs.
Marigold
Known to have anti-inflammatory anti-bacterial properties which can help support skin health.
Milk thistle
Packed with bioactive compounds which can break down toxins to help promote good liver health.
Dandelion
A natural source of vitamins & minerals that help support digestion and liver function.
Cranberry
Nutrient-rich antioxidant to protect urinary & digestive health and support immune function.
Chia seeds
High in Omega 3 & protein, helping maintain healthy bones and a healthy weight.
Chicory extract
Full of prebiotics that encourage the growth of healthy gut bacteria for efficient digestion.
Mint
Rich in Vitamins A and C which can support healthy bones, skin, and vision as well as immunity.
Nettle
Full of iron which is great for circulation, and aids in urinary tract and kidney health.
Parsley
Anti-fungal properties inhibit the growth of bacteria, promoting fresh breath.
Turmeric
Believed to have anti-inflammatory properties that support joint health & alleviate joint pain.
Pea starch
A naturally gluten & lactose free gel and rich source of amylase.
Quinoa
Supreme plant protein containing all 9 essential amino acids, supporting vital bodily functions.
Rosehip
Rich source of Vitamin C which can help with joint pain and mobility & aid with stress.
Pear
High in dietary fibre, pears help to keep your dog regular, plus are a great source of calcium for stronger bones.
Strawberry
Great source of vitamin C which can help reduce inflammation and cognitive ageing in dogs.
Sunflower oil
A great source of omega-6 fatty acids for a glossy coat & lower in saturated fat than animal fat.
Thyme
Promotes digestive health and also aids in ousting parasites such as hookworm.
Whole linseed
Rich in omega 3 oils, whole linseeds support a shiny coat and is a great anti-inflammatory.
Nutrition
COMPOSITION
Sweet Potato (26%), Potato Protein (14%), Pea Protein (13%), Dried Pumpkin (1.10%; equivalent to 10% fresh pumpkin), Sunflower Oil (9.2%), Potato, Peas, Pea Starch, Carrot, Ancient Seeds (4.7%) (Chickpeas, Whole Linseed, Quinoa (0.05%), Buckwheat, Chia Seeds), Leafy Greens (2.0%) (Alfalfa (1.3%), Spinach (0.1%), Kale, Seaweed), Fruits (0.4%) (Cranberry, Blueberry (0.1%), Apple, Strawberry), Brewer's Yeast, Vegan Gravy, Pea Fibre, Botanicals and Herbs (1.0%) (Parsley, Mint, Nettle, Dandelion, Milk Thistle, Ginger, Turmeric, Rosehip, Marigold, Burdock root, Thyme, Basil), Chicory Extract (0.1%), Minerals, Yeast Extract.
ANALYTICAL CONSTITUENTS
Protein 24.0%, Crude Fibre 2.7%, Fat Content 12.0%, Crude Ash 8.0%.
NUTRITIONAL ADDITIVES (Per Kg)
Vitamins: Vitamin A 20,000IU, Vitamin D3 1,750IU, Vit E 200mg. Trace Elements: Iron (as Iron (ll) Sulphate Monohydrate) 75mg, Zinc (Zinc Oxide) 70mg, Manganese (as Manganese (ll) Oxide) 40mg, Zinc (Zinc Chelate of Glycine Hydrate) 30mg, Copper (as Copper (ll) Sulphate Pentahydrate) 7mg, Iodine (Calcium Iodate) 1.50mg, Selenium (Sodium Selenite) 0.15mg. Antioxidants, Preservatives – (Preserved with tocopherol rich extracts of natural origin).Amino Acids: Taurine 1000mg.
*All ingredients are vegan except D3 from ethically sourced sheep's wool.
**Grain Free Formulation but made on a line that handles grain.
Accreditations
Founded in wellness and rooted in ethical choices, we are values-led and doing our best to help you make positive choices through our passion for natural ingredients, a commitment to sustainability & belief in the power of community.
We are excited to be part of the global movement, One Percent for the Planet, and promise to contribute at least one percent of our annual sales to environmental causes – together we are committed to creating a healthier world.

Packaging
Our dry food bags can be recycled alongside carrier bags at larger stores and supermarkets, or check locally regarding kerbside collections. Our bags use up to 16% fewer fossil fuels and 26% less water and reduce greenhouse gas emissions by 21% vs other non-recyclable bags.
With our resealable bags, we can also ensure our food stays fresher for longer, helping minimise food waste.
Boxes: Our boxes are made using sustainable materials and are recyclable, biodegradable and plastic-free.
Tape: Our EcoTape™ is a fully biodegradable and 100% plastic-free self-adhesive paper packing tape. It is made from sustainably sourced materials with a natural rubber adhesive. It's also manufactured in the UK.
Feeding guide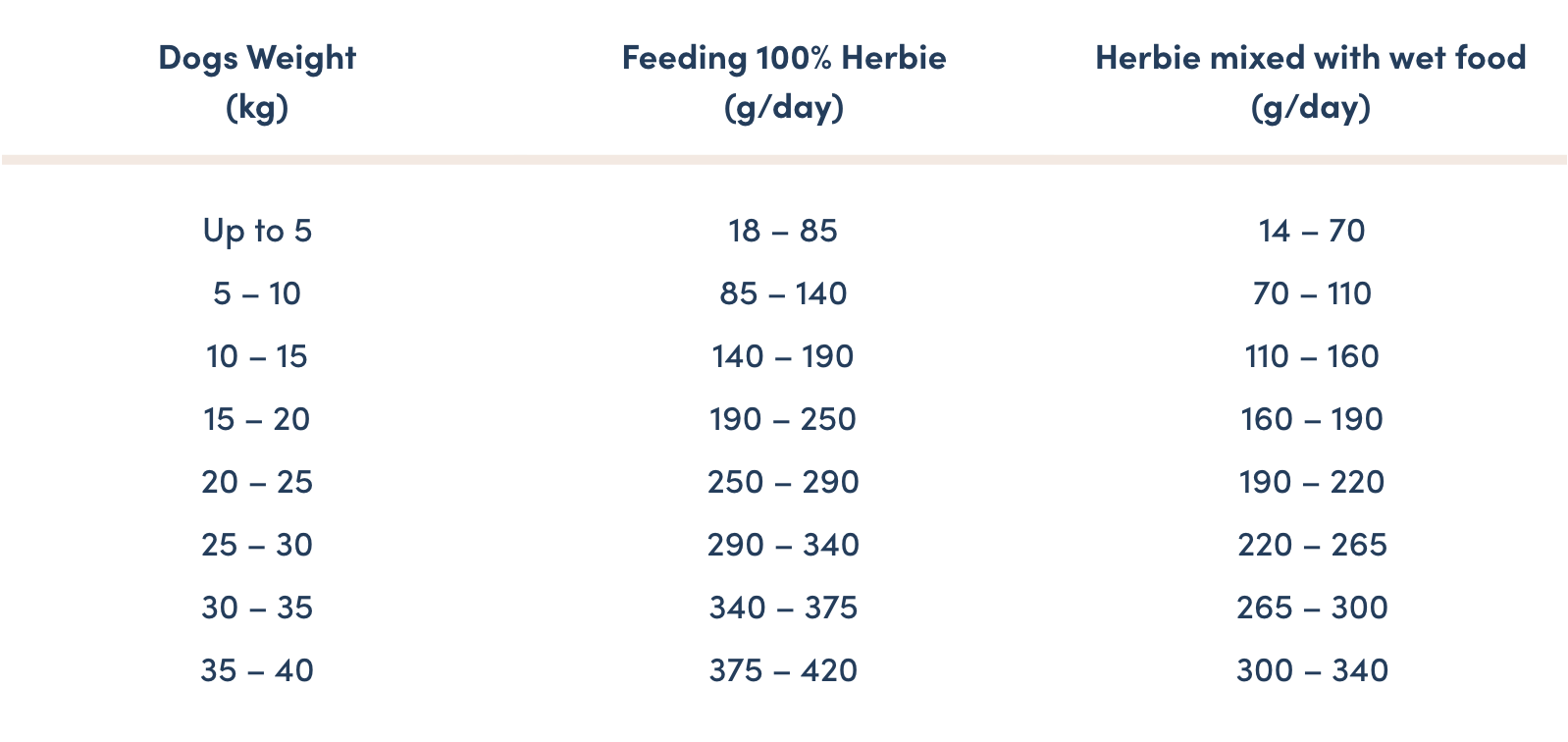 HERBIE WILDE FEEDING GUIDE
Our recommended daily feeding is a guide only. Every dog's appetite differs depending on size, age, condition and activity level. Please adjust the amount given to keep your dog in a lean, active condition.
If your dog looks overweight, reduce the current food intake by 10%. If your dog looks underweight, increase the current food intake by 10%. Continue this until the correct weight is achieved. Dogs that maintain a healthy body weight live 5-10% longer than overweight dogs.
Always ensure clean drinking water is available. Please store your food in a cool, dry place.
SWITCHING TO HERBIE WILDE
Herbie Wilde has been tasted and loved by our dog panel, so even if your dog asks for more Herbie, we always recommend transitioning gradually over seven days. The diagram below gives a guide to introducing the percentage of Herbie Wilde food over the seven days.

Learn more
about Herbie Wilde